Back to all posts
Posted on
Junior High Online Learning Schedule at Bluffton School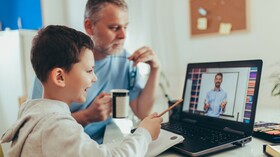 November 27, 2020
Dear Parents and Guardians:  
After a successful return to in-school classes we find ourselves preparing to learn and teach online again in grades 7 - 9. Thankfully, our junior high staff have already invested considerable time preparing for online learning. We are ready for this new challenge. There are 19 days of online learning scheduled as follows:
Online Learning:  November 30 to December 22
Winter Break:  December 23 to January 5
Online Learning:  January 6 to January 8
In-Person Learning:  January 11
According to Alberta Education, Scenario 3 involves a focus on core mathematics, language, science, social studies, and wellness learning outcomes. Students should expect a minimum of 12 to 16 hours of work per week. The pace of learning this winter will progress as it would if students were in a regular classroom.
BLUFFTON JUNIOR HIGH ONLINE SCHEDULE
 
 
Grade 7
Grade 8
Grade 9
1
9:00
Math
Language Arts
Independent Work Period
2
9:35
BREAK
BREAK
BREAK
3
9:45
Independent Work Period
Math
Language Arts
4
10:20
BREAK
BREAK
BREAK
5
10:30
Language Arts
Independent Work Period
Math
6
11:05
BREAK
BREAK
BREAK
7
11:15
Health/Tutorial
Health/Tutorial
Health/Tutorial
8
11:45
LUNCH
LUNCH
LUNCH
9
1:00
Science
Science
Social Studies
10
1:30
Social Studies
Social Studies
Science
11
2:00
BREAK
BREAK
BREAK
12
2:15
Extra-Help
Extra-Help
Extra-Help

The schedule is the same everyday 


Google Meet Codes
BLWagar
BLAnderson
BLBrown
Research indicates that students learn best virtually with a teacher and classmates because students can ask questions and learn together. Research also shows that online learning is most effective when students and teachers can see each others' faces. For this reason, video cameras will be required for online learning. 
Core classes (Math, Language Arts, Science, and Social Studies) will meet online four times each day for 45 minute learning sessions with their teachers. Each grade will also meet for a Health or Tutorial class that will focus on Wellness outcomes related to nutrition, screen time, digital health, careers, and physical fitness. 
All of our classes will take place in Google Meet. Students were shown how to log into Google Meet with their class codes this week. The schedule with links to each teacher's Google Meet is also available on the Bluffton School webpage.  It is important that students have access to wifi and a device with a functional video camera. Students who will be absent for any reason should email their teachers and their parents should call the school to report their absence.  
Student assignments can be found in Google Classroom. Teachers will share the learning activities and assignments for the day using this platform and assignments can be submitted online. Teachers will contact you if your child misses class or deadlines. 
You may be wondering if there are any other steps you can take to help your child succeed in an online learning environment. Here are some things that we recommend: 
Work with your child to create an organized workspace that is free from distractions. 
Discuss their learning schedule and decide how to share resources with family members.
Confirm that your child's device and video camera are in good working order. 
Check in with your child and their teacher to ensure that they are attending regularly. 
We hope that your child will be able to complete their online learning each day and access their teacher's support on their own. If they have any difficulty understanding the concepts presented to them, I urge them to contact their teacher via email to set up a 1-on-1 conversation during our extra help. These self-advocacy and communication skills will be very valuable to them for the rest of their lives. 
If you have any questions about online learning please email your child's teachers or call our school at (403) 843-6528. Communication between school and home is extremely important during online learning and we are always happy to help. If we work together we can slow the spread of the COVID-19 pandemic and return to in-school classes on January 11. 
Sincerely,
Terry Hoganson
Principal, 
Bluffton School